CMC On Eagles Wings (The Sire)
AMHA Reserve World Champion 2 yo Colts 29 and Under (Open) has begun to prove himself in the breeding shed as well as the show ring! We are excited for the foals that he has given us so far and look forward to what 2015 will bring.  He has proven to produce lovely  refined foals with the potential to enter the show ring in halter AND performance.  Each one has been correct and they have beautiful fluid movement.
~Blessed Are His Broodmares~
Azariahs Be Ye Glad
Bea is expecting her first foal in late April 2015.  Bea is the elegant daughter of Reflections Beyond Stardom and out of Azariahs Galadriel.  I have been looking forward to crossing one of Beyond's fillies with Eagle, this will be our first foal of this cross and I am eager to meet this foal.  It will be black based and time will tell if it will be pinto or solid.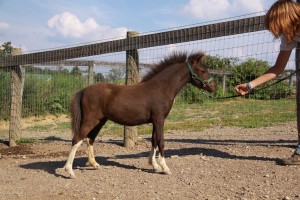 Impressibles Exquisite Design
"Jenny Craig" (LOL ~ yes, that is really what we call her) has some of the most beautiful foals I have ever seen.  A silver bay, her color genetics are interesting.  She is Ee (she black based but carries the red gene) AA (homozygous for agouti – hidden in a red based foal but show as bay in a black based) and ZZ (homozygous for silver -hidden in a red based foal but expressed in black based) So this foal will be a surprise color… always fun to wonder.  This will be her first foal by Eagle and we can hardly wait!  She is due in mid May of 2015.